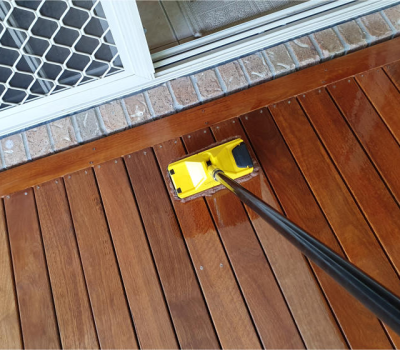 5 Ways You Can Protect Your Deck This Winter
Posted on April 14, 2023
Prepare your deck for staining by scrubbing down the surface using a pressure washer and removing any dirt and debris.
Choose the right type of stain for your deck, taking into consideration the type of material, the extent of weathering, and the desired finish.
Colored wood stains can be applied with a brush, roller, or spray, depending on the coverage desired. Make sure to reseal the stain after every coat.
Make sure to remove any bubbles or drips as you apply the stain, and allow the stain to dry for the recommended time before applying additional coats.
After the entire staining process is complete, allow the deck to dry, and then give it a final seal with a sealer or transparent top coat.
A deck is both a serious investment and a serious good time! From hosting sophisticated dinner parties, to casual weekend barbecues, your deck is where the magic happens outside. Decks have withstood the test of time as a cherished social focal point, and as a value-boosting home accessory. As it is both an important outdoor space, and a financial consideration, proper deck care and maintenance cannot be overemphasized.
Lumber decks are the most common variety, and come with a unique set of challenges. Our intense midwestern heat, cold, moisture and dryness are all stressing factors on the timber that makes up your deck. Without the proper care, even a brand-new deck can quickly show signs of wear.
At KC Sharp Home Improvements, we pride ourselves not only in our new deck builds, but also in our restorations, repairs and touch-ups. Here are five tips from our professionals to you, on how best to preserve the life and beauty of your deck for many years to come.
Fix 'er Up!
Prior to any kind of protective or cosmetic care, your deck has to be shipshape. Staying on top of upkeep will pay off in the long run, and help you to avoid expensive repairs from out-of-control damage, or even having to build an entire new deck. Make sure to replace any warped, cracked or rotted boards. Keep an eye out for protruding nails and screws. A well-maintained deck is the first step to both longevity and loveliness. From wood rot getting out of hand, to simply being unable to do the repairs yourself, our people are KC Sharp Home Improvements are ready and willing to assist in whipping your deck into the best shape of its life!
The second step in winter deck-prep is ensuring you have a clean, even surface to work with. Dirt, debris and surface mold will all lead to rot if left unattended, especially combined with the moisture of snow or sleet. This step is also necessary before staining or sealing. We recommend a thorough power-wash, to remove surface-level debris, then a good scrub with a deck cleaning agent and a brush. Make sure you take your time in the cleaning process, and give your deck at least twenty-four hours to dry before attempting to apply any stain or sealer.
Now that your deck is in tip-top physical condition, it's time to lock all that hard work in, and perhaps, get creative! While the pressure treated lumber used in most deck builds is manufactured to withstand moisture, time and weather eventually cause the water resistant chemicals to dissipate. This is where a stain and sealer comes in. Not only does a fresh coat of stain make your deck look like new, but it is also a crucial step to keep moisture out. We're happy to tell you that two coats are better than one, and make them thin and smooth. But choosing a beautiful new deck shade? Well, that's entirely up to your preference! Maybe it's time for a fresh coat, or perhaps you're feeling adventurous and want to switch things up. Regardless of your decision, we're happy to accommodate you in giving your deck the facelift it deserves.
At this point, your deck should look fantastic! However, maybe you're wondering, is there anything else I can do to make sure this gorgeous new look lasts? The good news is yes, there certainly is. Meet deck sealant, your new best friend. While stain soaks into the wood and keeps moisture out, think of sealant as a surface barrier, laying over the stain to get in those crevices and providing still more moisture protection. Unfortunately, sealants are not a permanent product. Their effectiveness decreases over time, so it's important to make a habit of annual deck maintenance. We think sealing the deal on all that hard work is certainly worth the investment.
What should I do when it snows?
By now we've established that moisture is pretty much your deck's biggest enemy. As a further barrier, try laying down a tarp over your deck before snow or sleet fall. In the event that you forget to batten down the hatches, shovel snow from your deck just like the sidewalk, making sure to go the direction of the boards to avoid scraping. Your deck is both a beautiful entertainment space and a valuable investment. We hope our tips help you to keep it in great shape for many years to come! And as always, if you can't do it yourself or don't feel like the hassle, our KC Sharp Home Improvements team is just a phone call away.